A moped had never been on my wish list. I have never talked with friends about owning and mainting a moped. And I have never longed for butt-hurting ventures in windy, raining and exhausting conditions.
But I started riding the moped. Small city trips. Longer 1-day rides to the country side. All while getting more and more funky ideas about a longer ride: Touring Denmark.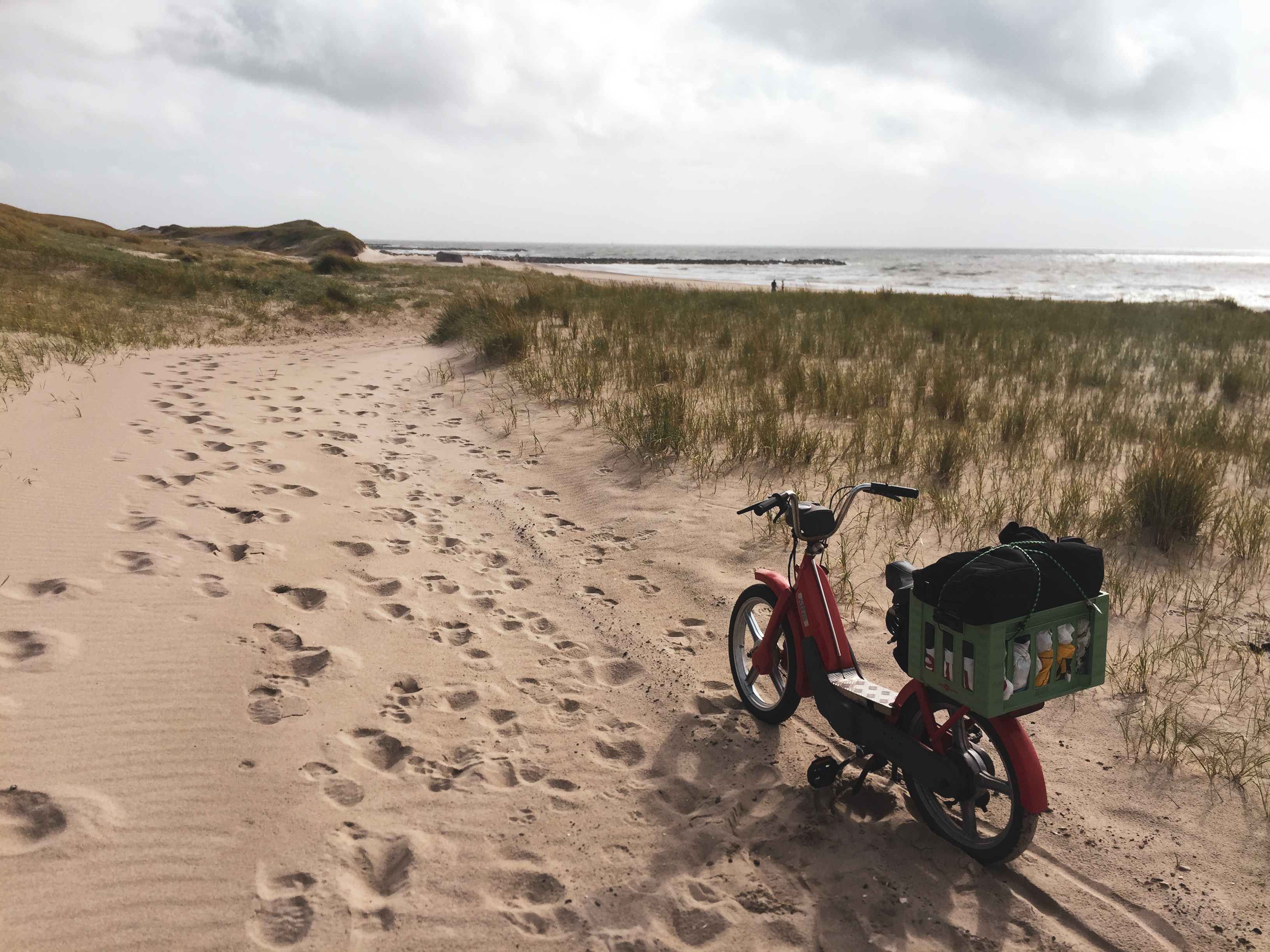 The moped: 1994 Vespa Piaggio Ciao
The moped is a Vespa Piaggio Ciao from 1994. Not to be mistaken for a Puch Maxi! Belt-driven and no battery. Fuel capacity of 2.8 liters. 17 inches of wheels. 49 cc air-cooled two-stroke. Rolling at around 35 kilometers per hour on a good day in downwind. Pedals if you run out of gas.
I got it completely refurbished. Nicely painted with a custom-made foot rest.
Preparing for the ride
If a 1,700 kilometers ride should be succesful, some sort of planning was required.
Where to go? Should I visit all cities with a cathedral? Should I drive through Denmark's 20 largest cities? Should I aim for countryside or coast. Note, hills and mountains are not an issue in Denmark. I discussed with friends and families, agreeing that coast, sea and island hopping would set the scene for the most eventful trip.
Where to stay? I originally imagined bringing a tent for flexibility, but quickly realised that a tent, mat and a sleeping bag wouldn't fit with a comfortable ride. So I started telling people about the trip and doors opened. I mostly slept at places where people were on vacation. I slept at friends' places. Friends' parents' places. My sister's friend's mother-in-laws place. Of 19 days I only paid for four nights. The rest was covered by friends and their relatives.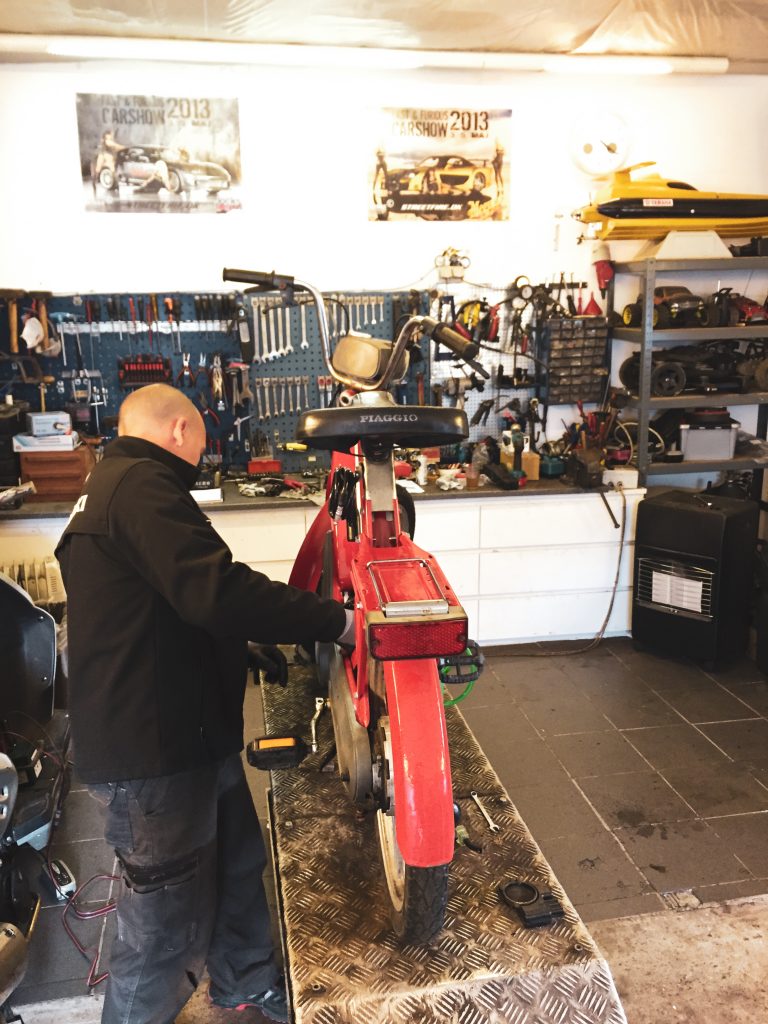 Mechanical Failures? I have never fiddled around with engines or electrical / mechanical systems. The moped is super simple, while also knowing that a 20 years old moped might have issues when challenged.
So I hung out with a moped mechanic a couple of times. He fixed and prepared everything. Showed me all the tricks. And bought me the spare parts needed for a long ride.
Packing a milk crate
Old fishermen riding mopeds equipped with a green box have been an institution in Denmark for ages. Which was the exact reason for stripping a 30 years old milk crate to the red moped. The box contained:
Basic clothing for a couple of days.
Warm clothing for a cold windy summer.
Rain gear.
A blanket.
Tools, spareparts, tyre foam and 1 liter of spare gas
I'd often have a bottle of wine for my next host. Not to forget the blackcurrant bush I picked up in Høruphav at a friend's uncle – a bush which still lives as a souvenir in my allotment garden after 650 km. on a moped.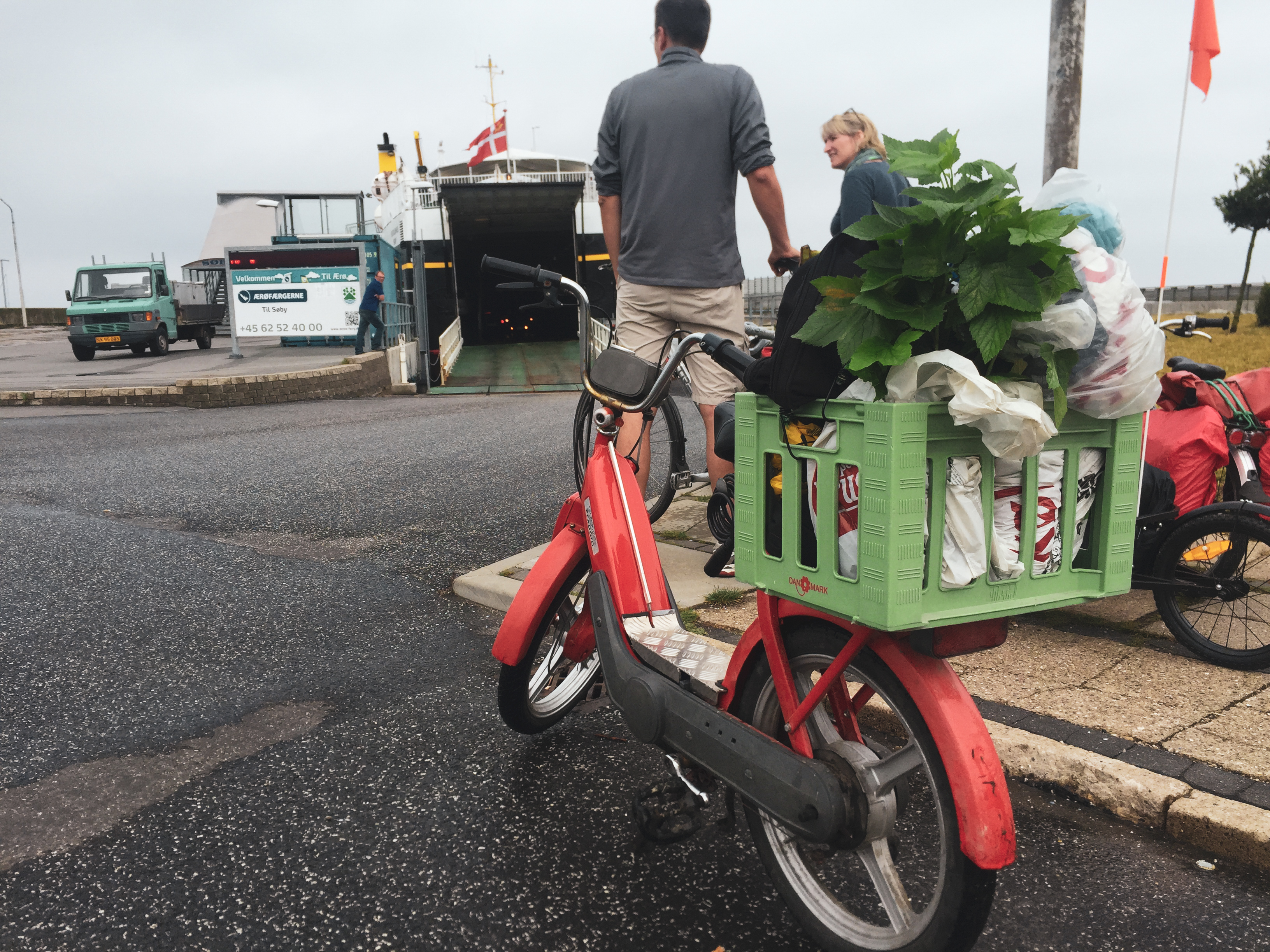 Heading off – The first 84 kilometers
I headed off on July 15th. A cold summer day requiring me to wear all my warm clothes including rain trousers.
The morning started with the last preparations. Trying to change an air filter for better idling and throttle. Wouldn't fit.
Last decision to leave the tent behind.
Packed the milk crate. It was stuffed and really heavy, which showed as soon as I hit smaller hills.
I did not bring any maps. I took my guidance from Google Maps Bicycle-mode.
A mode that after just 30 kilometers ride would take me through picturesque fields close to my childhood home I had never seen before.
A mode that would take me far away from larger roads – but also lead to a lot of dead-ends and worn-out paths requiring for u-turn after u-turn.
My first day on the moped was a success. I completed the first stage and was welcomed by friends in their summerhouse on the coast north of Copenhagen.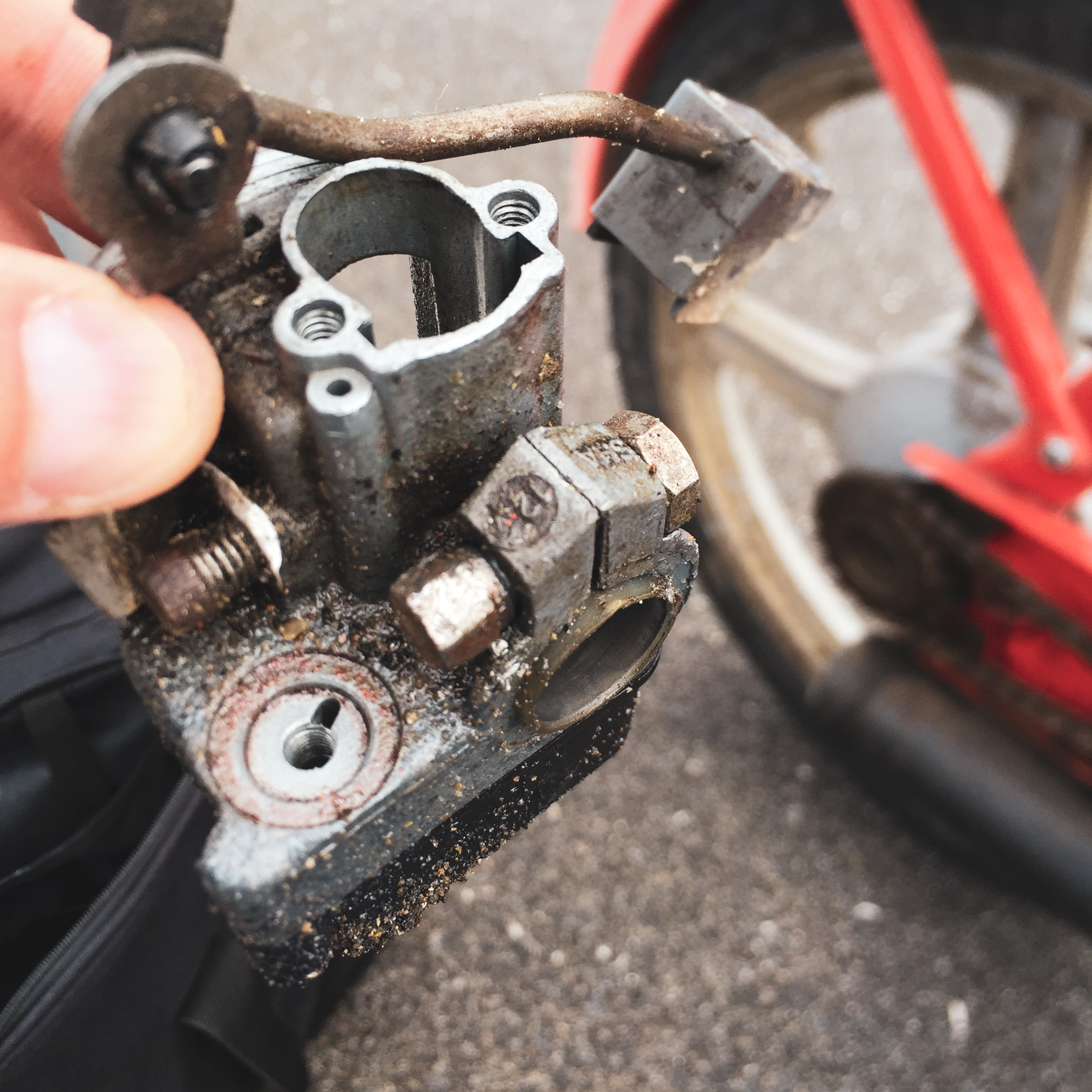 Maintenance & Breakdowns
Michael the moped mechanics had taught me a few tricks to make sure problems could be solved on the road.
Leading up to the day of departure I had issues with gasoline flow, a clogging carburetor and issues with idling.
Issues which were all solved during the first days by tweaking, pulling, screwing in random places.
Halfway through the ride the exhaust pipe almost fell off – five minutes of work with a wrench fixed it.
The largest issue was a clogging carburettor caused by an old rusty fuel tank. Small rusty parts not caught in the fuel filter would flow directly into the carburetor.
So I would sit on my plastic saddle listening to the engine all day. Listening for changes in RPM and engine noise that would indicate that fuel wasn't flowing as it should.
Sometimes it could be fixed with backfires and changes in air/fuel mix. But four times during the ride it would come to a full stop after 10-20 minutes. A full stop that would require me to dismount the carburetor from the engine, take it apart and clean it. A procedure that would take 20-30 minutes and always leave you with dity fingers and a taste of gasoline in your mouth. But it worked. Everytime!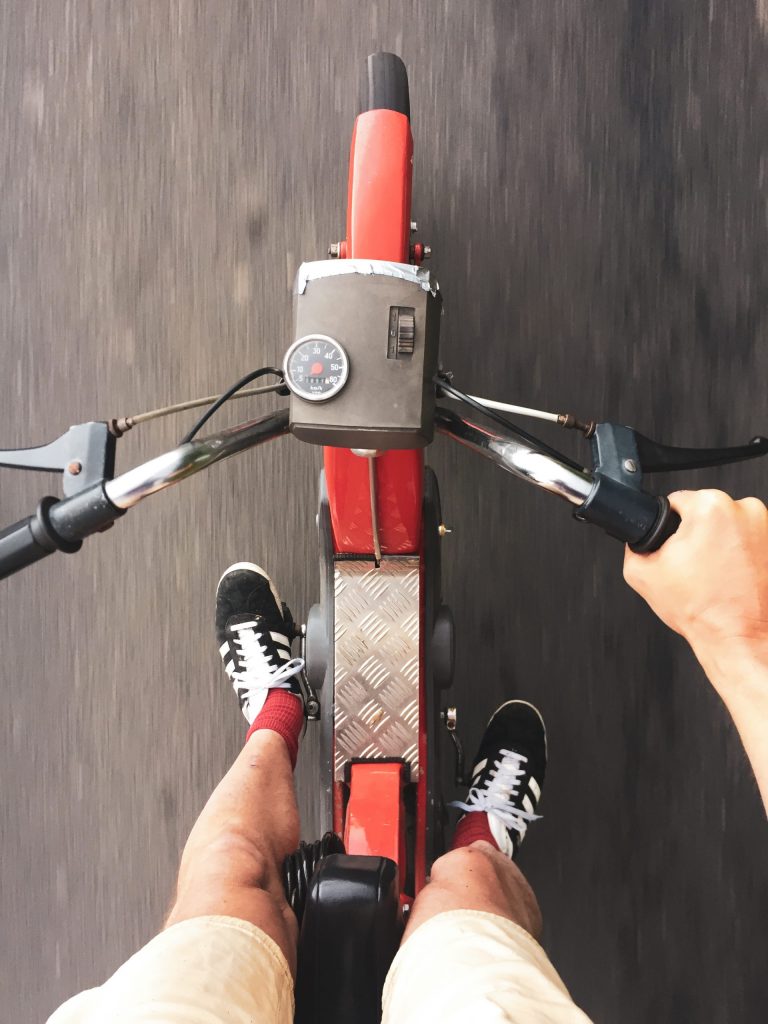 Solitude & Socialising
While I was worrying about moped breakdowns, friends and families worried more about solitude and me being alone on the road for three weeks.
Solitude has never bothered me. As much as I love being among people I also love being alone.
I was actually looking forward to being alone on the road – experiencing the outskirts of Denmark all by myself.
During the day I was not alone. I stopped a lot – to stretch, find my way, snack and just enjoy where I were. Stopping on a packed moped sparks conversations. People could see I was on a long ride – they were curious and wanted to know more. Some wouldn't believe it, until I showed them pictures from places I had been.
And after 8 to 10 hours on the moped I would be greeted by friends, friends' parents or friends' friends. They would all serve great food, alcohol and give me the best bed in the house – kicking primarily kids out of their rooms to sleep on the couch.
I would tell stories and not do anything else than relaxing.
After the first 3-4 days I realised that being a guest for just a single night – after a long day on a moped – is the absolute best way for a phenomenal service level.
I would socialise at breakfast in the morning. With an older mom, three generations or my close friends and their kids. Packing the moped. And leaving for yet another day on the road – meeting strangers, kicking tyres and telling stories.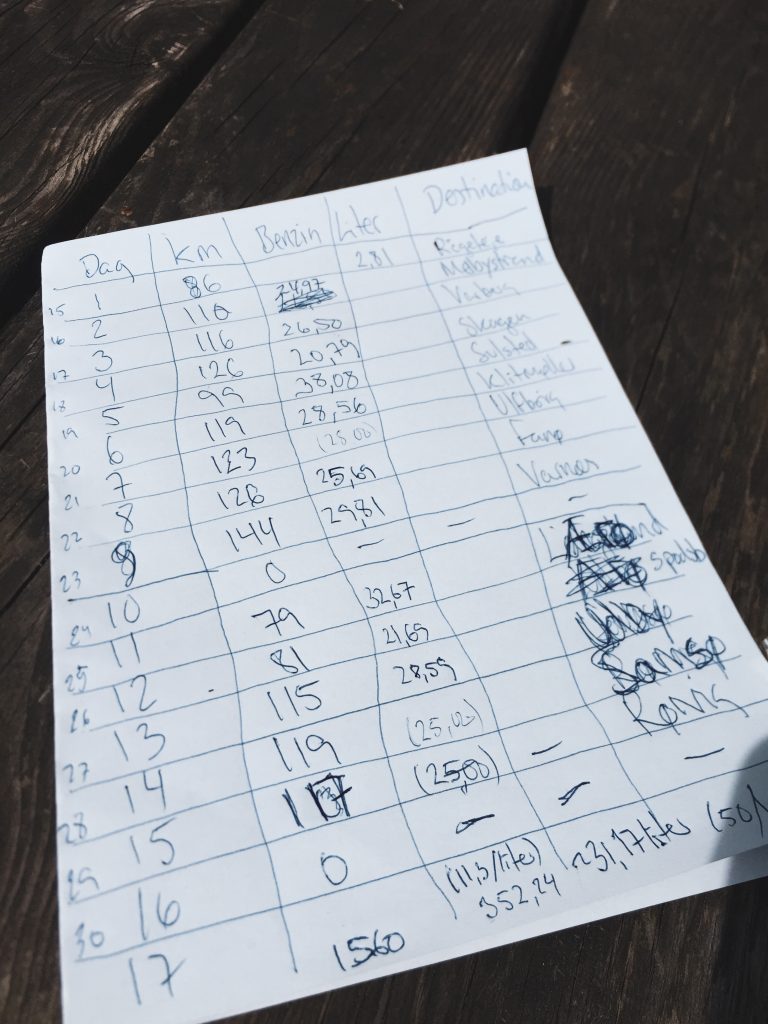 The trip in numbers
Looking back I would probably have managed my numbers in a huge spreadsheet. But they ended up on paper.
Numbers collected on my Garmin 910XT GPS watch and while pumping gas. 1994 Vespa Piaggio Ciao
17 days on the road
13 ferry rides
38,2 liters of gasoline
44 kilometers / liter
Longest day: 144 km
Fastest hour: 37 kilometers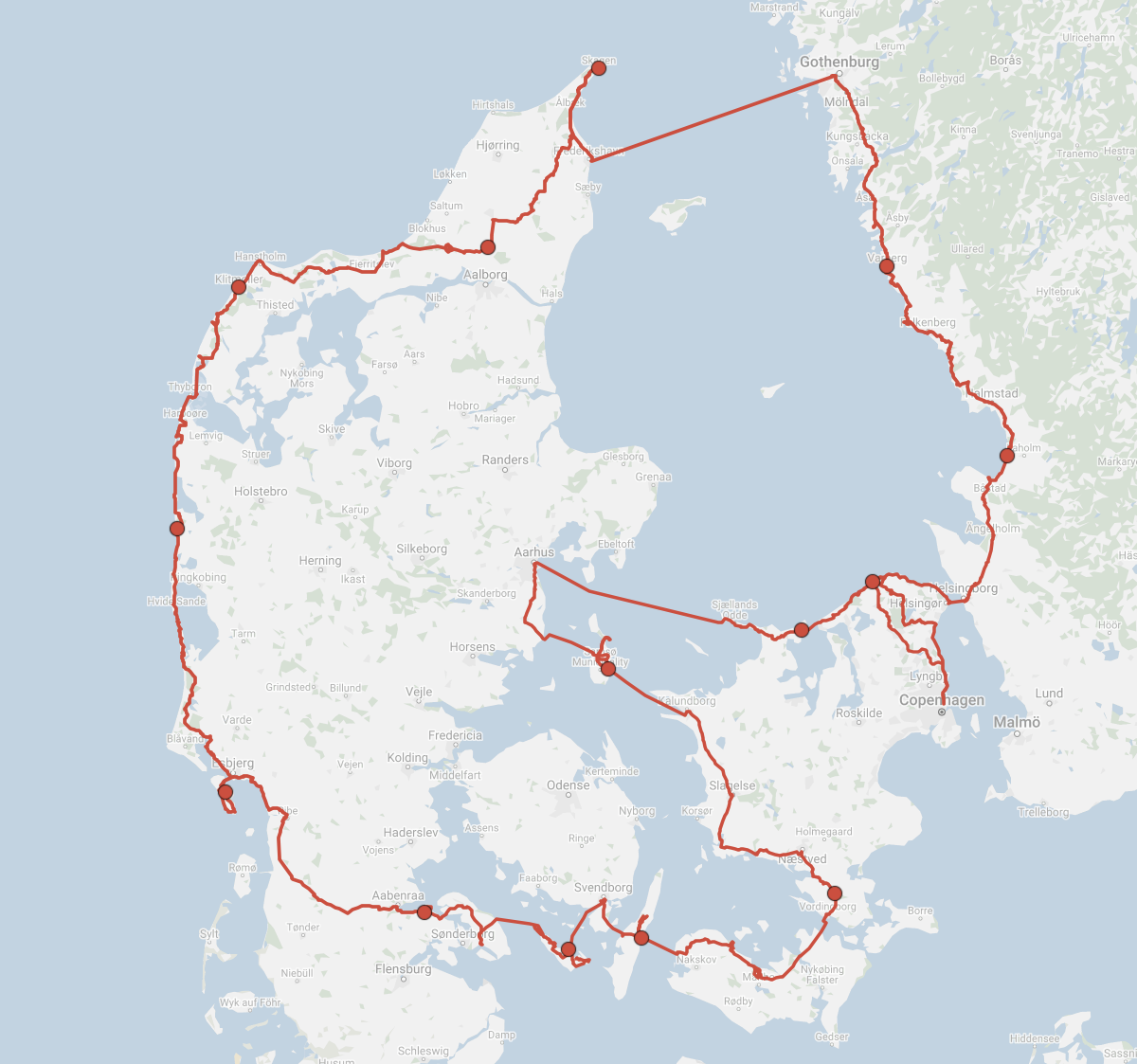 Tracking the ride
I tracked the ride on my Garmin 910XT.
The map shows the final and complete ride. Deviating from the original plan by taking a detour to Samsø and Århus.
Red dots are all my stopovers.